So on thursday the punkin turned 2! I bought her an Alice in Wonderland dress and that was her birthday dress.(Benefit of a Halloweenish birthday!) She was so cute.
Hard to believe that my little girl is 2, it went by so fast I can't believe it.
This whole year went by super fast.. which I guess is a good thing.. considering my hubby left in December. Only a few months left.
For Halloween she was Minnie Mouse.I never post pics but I am breaking my rule cuz she just looked so adorable!!!She was totally amused with the whole concept of trick or treating thing. When she got tired I would have to carry her from house to house... but always wanted to walk up to the house herself.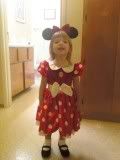 Lastly after trick or treating.. we had our first VTC(video teleconference) with the hubby in Iraq. His computer is not completely working so hence no webcam. This was the first time we got to see each other since he was home in April. He got to see the punkin all dressed up in her costume. It was really great to see him, I miss him bunches.
Only like 3 more months... I hope it goes fast.